Bless the Bullys is a small, Tennessee non-profit rescue and education effort dedicated to restoring the image of the American Pit Bull Terrier. Though we started out solely as a rescue in 2004, over the past several years, our priority shifted to the battle against breed specific legislation in Tennessee, as well as across the country.
PLEASE NOTE we currently rescuing on a very small scale, and not accepting any new dogs at this time.
This website is maintained for the purpose of continuing our education efforts, which include my almost two decades of hands-on experience with pit bull-type dogs, a decade of research on breed specific legislation, and my personal experience in fighting breed discrimination.
Whether you are doing research to add a new companion to your family, or interested in learning more about pit bulls and breed specific legislation ("BSL"), I invite you to browse our website. I think it will be easy to understand why the American pit bull terrier has been one of the most popular family dogs in the country for the past several decades.
October is National Pit Bull Awareness Month!
Bless the Bullys is the founder and home of the National Pit Bull Awareness & Appreciation Campaign, which is a nationwide effort to bring positive awareness and attention to the American Pit Bull Terrier and their responsible owners.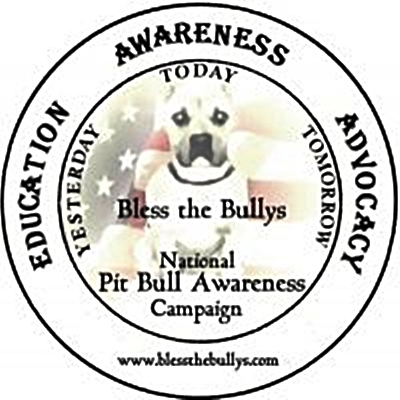 Looking for items to show off your pit bull pride? From t-shirts to preprinted BSL postcards to send to your legislators, WE'VE GOT IT ALL! Not only that, a percentage of each of your purchases benefits the Bless the Bullys adopt-a-bulls and our efforts to fight breed specific legislation. Just click on the picture below to go to our Zazzle shop.